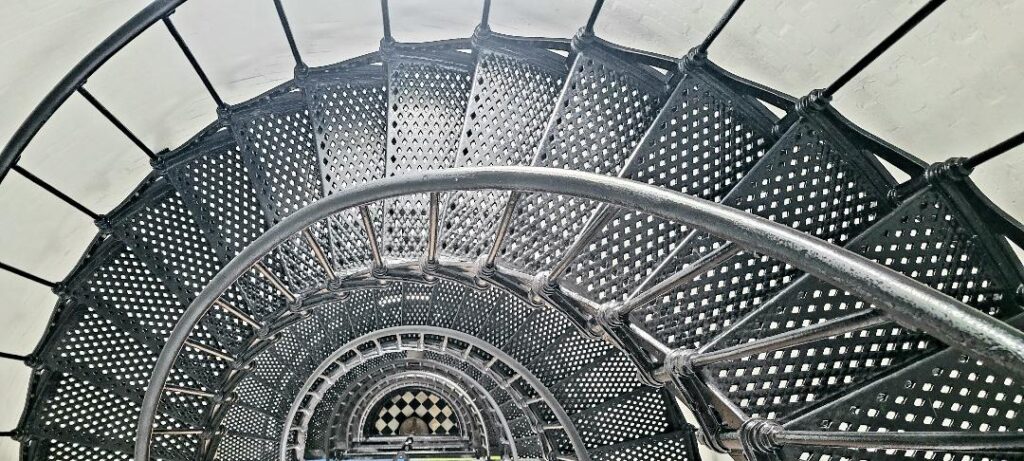 On the day following my nephew's high school graduation, I woke up in my Nissan Pathfinder after a night of car camping at the Little Talbot Island State Park in Florida. Camping in a car is like sleeping in a coffin cozy and comfortable with fluffy pillows and controlled environment. Metal car capsule, just like wooden planks of a coffin, protects a sleeper from the outside elements, but getting out of it isn't so easy. My bones were stiff, I couldn't fully stretch and once outside everything was sticky from humidity and moist from the morning dew. I am not really sure if there actually are many similarities between sleeping in the back of a car and a coffin, since I have not yet experienced the coffin thing and hope not to do so for a very long time. I stepped out from the car and decided that there was nothing better to do but to brush my teeth, get dressed, and go somewhere. Back of the car was not a comfortable place to hang out while the sun was raising up in the sky. Energized, I decided to visit the city of St Augustine by driving down on the picturesque Road A1A as opposed to on the faster but industrial Interstate 95.
St. Johns River Ferry
I came out of the campground, turned right and proceeded towards Jacksonville. I wanted to cut over to Road A1A as soon as possible; my first opportunity came when I drove towards St. Johns River Ferry landing. By paying $7 for the ferry, my trip was shortened by about 20 miles which translated to $4.56, a cost of 1 gallon of gasoline. Time wise everything depended on the ferry's schedule which runs every thirty minutes. This time I got lucky, the ferry was just docking and there were only a few cars in line; we would all get on and cross St. John's River. The 0.9 mile crossing takes about five minutes; enough time for me to step out of my car and spot a few gray dolphins skimming the surface of the river. I would like to spend more time observing the dolphins but as we approached Mayport Ferry Landing they disappeared below the river's surface and it was time for me to get into the car and drive off.
Castle Ottis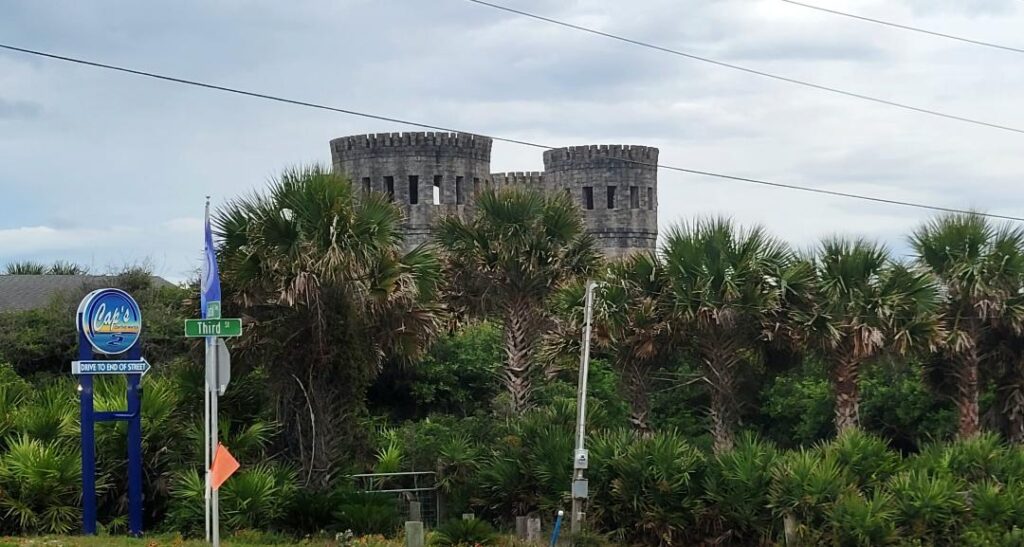 A1A is a straight well-kept road on a narrow strip of land passing between sandy dunes and wealthy neighborhoods composed of beautiful giant private houses which obscure the view of the ocean but themselves are worth a double look. During the one-hour journey, scenery started to look monotone until to my right I noticed a castle, a real freaking Irish castle with four towers sticking up above Florida palms. I slammed on the brakes and turned into the next street behind the castle; this was definitely something worth stopping for and visiting. I drove around the block and became disappointed because I was not able to find an entrance into the castle; the closest possible inlet had no parking and no trespassing signs posted. Google that thing, I said to myself, and learned that the castle is a landscape-structure created by two people working without elevation drawings or models, they were freestyling – impressive! Good to know that there was engineering data used to assure structural integrity. The place was never intended to be a residence, commercial building, or a tourist attraction; this made me think of the Hollywood studio sets where one walks through a wild-wild West town with realistic street fronts but nothing behind the cardboard facades. Castle Ottis, "created in remembrance of JESUS CHRIST," (not to be confused with Jesus Christ) is available by appointment to schools, institutions, and community groups. It hosts interdenominational "CHRISTIAN" worship services (not to be confused with Christian) and no kids below twelve years old are allowed to attend due to insurance regulations. I was both impressed and disappointed by Castle Ottis. What a structure! What a waste!
https://www.castleotttis.com/
Fountain of Youth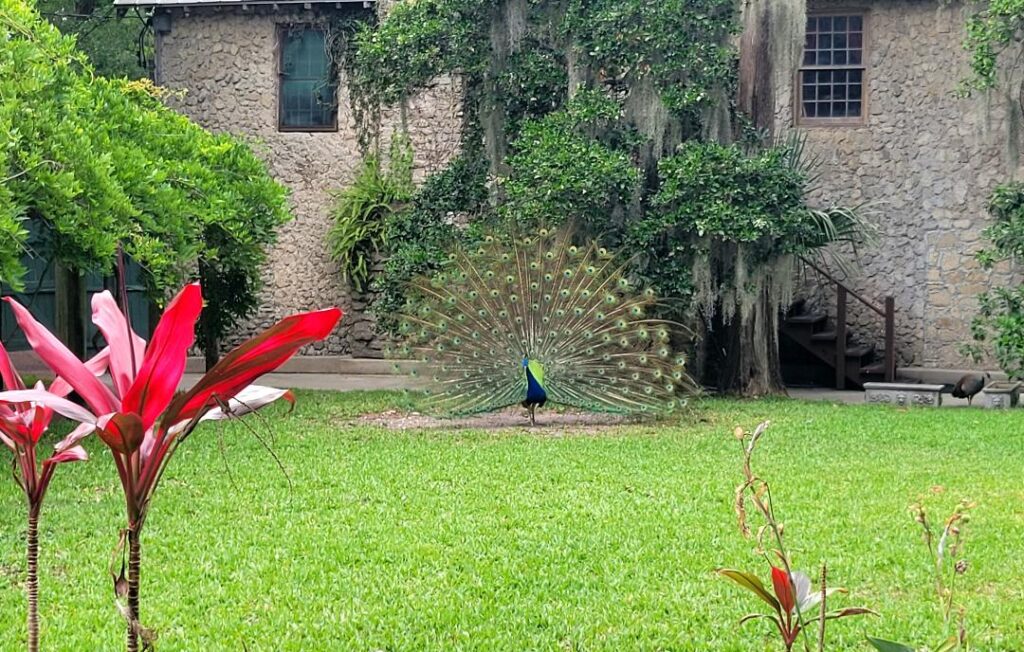 Before taking off again towards St Augustine I plugged into my GPS directions to Ponce de Leon Fountain of Youth Archeological Park. It is good to have a goal and drinking from the Fountain of Youth is as good of a goal as any (or maybe even better if the water works). I could swear that I've already visited a Fountain of Youth at the Ponce de Leon Springs State Park in Central Florida, but since I did not get any younger, maybe that one was a fake and the fountain in St Augustine is the real deal. https://www.fountainofyouthflorida.com/visit/ I arrived at the Archeological Park, paid the twenty-dollar admission fee and eagerly entered the park to taste the water from the Fountain of Youth. The water smelled like rotten eggs and had a slight sulfurous taste of the mineral. The most spectacular part of the park's attractions were male peacocks eagerly showing off their colorful tails. They would open the tails into a giant fan and slowly spin around allowing us to awe over their beauty. The rest of the park offered mediocre exhibits including: Native American village, Spanish Conquistadores lookout tower, planetarium; and a number of shows including: firing a cannon, crossbow, and a harquebus; a blacksmith show and other exhibitions. All targeted to groups at the grade school level, as for me, I was ready to head into town to check out the St Augustine Fort.
Castillo de San Marcos
The fort or Castillo de San Marcos is located right next to the historic downtown and is under National Park Service management. Fifteen-dollar admission fee lets visitors in and allows them to wonder through numerous historical exhibits and walk on the fort walls marveling over the views of Matanzas River and its numerous bridges. My visit to the fort was quick, followed by wandering into the old city streets. My attention was drawn by City Gate Spirits, a Distillery offering free tastings for those of us twenty-one and older; definitely a place to stop by. I tasted three different whiskeys: Smokey Maple, Peanut Butter Salted Caramel and based on my winning personality, I was offered a bonus round of Cinnamon Whiskey. The next and my favorite station was hosting Sweet Tea Vodka, Limoncello, and Coconut Rum. Lastly, I stumbled for a taste of Orange N' Cream Moonshine, Apple Pie Moonshine, and White Lightening corn alcohol mixed with Passion Fruit Sour. I could purchase any of these magical concoctions for thirty dollars each, but feeling good and with a smile on my face I left without a purchase and proceeded to meander around historic St Augustine streets.
Flagler College
Worth noting was Flagler College, I am not sure what the college specializes in but the main historic building is a true work of art and absolutely worth a visit. It will take you into a Harry Potter like environment with courtyards, wooden staircases, and archways. Henry Flagler was one rich fellow who seemed to spend his money well. I am aware of the failed Flagler Rail Road in the Florida Keys, Kenan Flagler Business School at the University of North Carolina (that I am an alumnus of), and now Flagler College in St Augustine. I am looking forward to discovering more of Henry Flagler's philanthropy as I travel across the United States. If I were a wealthy person, following the example of Henry Flagler, I would use my monies in a similar way by which I would keep my family's name alive.
St Augustine Lighthouse
There were many more attractions to be seen in the historic St Augustine downtown but my interest pulled me to the St Augustine Lighthouse. Crossing Matanzas River via the Bridge of Lions, I arrived at the site of the St Augustine Lighthouse and Maritime Museum run by a non-profit organization. Fifteen-dollar general admission entitled me to climb up the lighthouse and visit numerous on-site exhibits including the Keeper's House, Maritime Exhibits, Underwater Archeology Exhibits; and offered an adventure on nature trails on the premises. All well worth seeing.
My favorite sites included the views up and down the metal spiral staircase on the inside of the lighthouse and of course the Fourth-Order Fresnel Lens. After previously visiting Cape Hatteras and Ocracoke light houses, I am now becoming an expert on Fresnel Lenses. A little research taught me that there are seven orders of Fresnel Lenses and an "order" specifies the the size of a lens.



Cape Hatteras Light House: First order Fresnel Lens (20 miles visibility)
Ocracoke Island Light House: Fourth order Fresnel Lens (14 miles visibility)
St Augustine Light House: Fourth order Fresnel Lens (14 miles visibility)
The magical invention of 1822 by French physicist Augustine Jean Fresnel revolutionized the optical power of light houses. The beehive of multifaceted individual prisms organized around the focal point reflected and refracted light allowing for only a minimum 20% light loss and increased light visibility from previously achievable twelve miles to twenty miles away. The beehive structure and the positioning of the lenses also offered differentiated patterns for the light, making each lighthouse's light characteristics unique and recognizable. Unfortunately, as with many inventors of the time, Augustine Fresnel was not able to enjoy success of his invention because he died of tuberculosis at the age of thirty-nine. https://www.nps.gov/caha/learn/historyculture/fresnellens.htm
At this point in my adventure I was getting tired and it was time to back track my way to the Little Talbot Island campsite. GPS told me that I would arrive too late to catch the last ferry across St John River, so I drove as far as possible up A1A and then cut over to Interstate 295 and headed east towards Little Talbot Island. I do hope to visit St Augustine again as there are many more attractions see and experience. Next time, I hope to participate in one of the St Augustine's Ghost Tours to hear local stories and if I am lucky to experience St Augustine's paranormal activity.