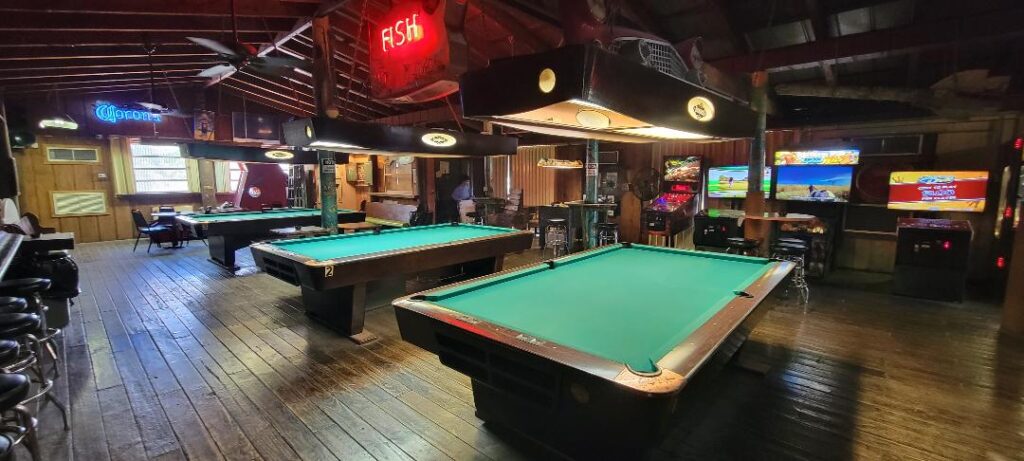 There are a million dive bars in the United States; from the outside they look run-down and uninviting but if you have enough guts to enter, the story on the inside is very different. One such bar is in the Lower Keys on Big Pine Key; it is called Coconuts. The building is hidden behind luscious, tropical coconut palms right off Highway 1 with an impressive, intense yellow façade.

Coconuts cannot be missed, unless you are color blind, but even then while your eye receptors only see a pinkish-bluish building with a handicap ramp, your brain will definitely register a conveniently located horse-shoe driveway up to the drive-thru liquor store. Out of town visitors and recent transplants are struck by the concept of a drive-thru liquor store but the locals don't bat an eye at its uniqueness. Behind the retail store there is a sports bar, a place that draws dedicated patrons every day between 7AM and 4AM.
When you step in, immediately you will inhale a now outdated aroma of stale cigarette smoke and the always in vogue smell of spilled beer. Cigarettes? You might ask, "haven't these been outlawed from bars many years ago?" Whatever, you are very welcome to stay, but if this offends you, you are also free to leave, no hurt feelings. Make no mistake, the bar inside looks rough and seedy, the clientele salty, and the bartenders appear like they spent too much time doing just that for much too long.
I visited Coconuts on a Thursday; it was one of those calm, hot and sticky mid-August evenings when the no-see-ums come out and attack human flesh with their needle piercing offensive. That particular Thursday was a ukulele night; a three-piece band composed of a ukulele, base-guitar and drums was leading eager and at the same time anxious beginners to learn how to play the instrument. The band leader started every song by announcing the cords; he was an excellent musician, good singer, and an engaging entertainer. Three people sat squeezed between the stage and a regulation Brunswick pool table which over the years had one too many beers placed on its baize covered surface. These three were ukulele students for the evening; the rest of us took more comfortable places around the perimeter of the bar where there were stools and chairs to rest on and bar ledges to place our drinks upon. If you ever visited a beach bar in the South East Unites States, the selection of music would sound familiar. These days a must-play sign along song is Wagon Wheel, released in 2004 by Old Crow Medicine Show [ https://en.wikipedia.org/wiki/Wagon_Wheel_(song) ]. Other covers tend to include Jimmy Buffet (of course), Led Zeppelin, Men Without Hats, 4 Non Blondes, and the list continues. No matter if the ukulele students can or cannot follow the cords, if the clients sing along the choice of music is a success. The leader of the band brought his daughter along. She was a tall, slim, bleached-blond, all grown-up lady who contributed by signing a few songs to her father's accompaniment. She was visibly anxious to perform in front of an audience but she had a beautiful twang in her voice very fit for country and folk songs. Such is Coconuts, a place where one can bring their ukulele or their voice to practice and the audience is encouraging and appreciative.

Half way into the evening, I walked up to the bar which was surrounded by a swarm of people, a middle-aged waitress with two blond pony tails and white knee-high socks with a design reminiscent of the 1980s was busily attending the bar and serving clients. She was definitely a person who could not multi-task, eager to serve everyone but only in a serial and NOT parallel fashion. When someone interrupted her procedure, she would look at them and sternly say, "I will get to you after I serve this person." That put an anxious client in his or her place. I was standing between a lady who was returning a set of billiard balls and a man who was gingerly hugging his glass of beer. I felt unnoticed by the bartender-lady which was OK since I was living in an experience. The man next to me tried to get her attention on my behalf and got scolded. The lady with billiard balls giggled and we all politely apologized to the bartender not wanting to get her upset and out of her zone. Finally, my turn came and I was served a grapefruit White Claw and a Yuengling for my friend.

Returning back to my "viewing-post" by the stage I looked around and studied the audience. There was definitely a cross section of Conchs, fresh water Conchs, and what appeared to be accidental tourists. I am using the Conch designation loosely since it usually applies to the people of Key West, but Big Pine being in the Lower Keys should be allowed to borrow the nomenclature. One lady walked up to my friend and said, "I know you; I drew your blood." What an interesting way for an introduction in a bar, I thought. This is a small town and as the conversation continued, I learned that she is a local nurse serving the community. There was a man who worked on the Hubble Telescope with background in both electrical and mechanical engineering. He told us that he gave up on his PhD dissertation. His friend made fun of the failed mirrors on the Hubble, "not my project, not my fault," replied the engineer.
Coconuts is a family run business established in 1983 and operating continuously in the same location. It is a window into how the Keys were many years ago. Today Coconuts is involved in the local community sponsoring events, pool competitions, and fund-raisers for local causes. Coconuts certainty is a local institution and I hope it remains here for many years to come and will not be replaced by a Disney-like pastel-colored bar catering exclusively to tourists and their vacation budgets.